Massage Therapy Program
Train to Become A Massage Therapist!
The Massage Therapy program at SOCHi provides career training for a career as a Massage Therapist. Topics covered in the program are medical massage, Russian sports massage, spa treatment modalities, and additional massage therapy modalities including lymph drainage, myofascial release, and trigger point therapy. The program also covers anatomy & physiology, kinesiology, pathology, CPR and First Aid certification, professional ethics, hygiene, and business principles. Graduates of this program have the ability to apply the skills and concepts learned in a spa or clinical setting.
request information
Is Healthcare Career Training Right for You?
The fun, online quiz takes 3 minutes to complete and you'll get a personalized report. Identify your strengths and social style plus the training and positions you're best suited for.
Healthcare Career Training Readiness Quiz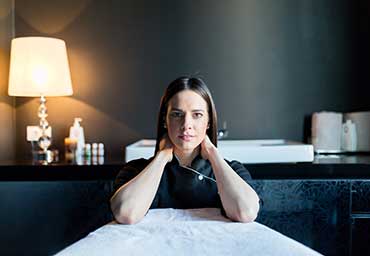 Advanced Massage Therapy Classes
Advanced Massage Therapy Programs are aimed towards providing the basic skills and the training to students in massage therapies of different kinds so that the future massage therapists are able to gain the caliber and the skill required to become a massage therapist.
The program is generally found to include the provision of specialized training in anatomy, physiology and the body work of the human body and instructions in different languages in a variety of massages such as shiatsu massage, stone massage, pregnancy massage and lymphatic massage for the reduction of stress and for the promotion of general well-being of an individual.
Additional Course Offerings:

Deep Tissue

This course focuses on the development of knowledge and massage techniques to affect deep layers of tissues and specific muscular structures. Topics include the use of pressure and monitoring pain. Physical skills focus on body mechanics, palpation skills, stretching techniques and deep tissue massage techniques.

Eastern Massage

This course introduces the student to forms of energy bodywork including, Shiatsu, Thai massage and reflexology. This course includes theory, basic techniques, routines and integration into massage sessions

Massage Therapy Modalities

In this course the student is introduced to the techniques which comprise cranial sacral spinal therapy, as it exists in the Russian medical massage paradigm. The course focuses on cervical, thoracic, and lumbar paravertebral massage, regional massage for injuries, segmental spinal mobilization, manual spinal discharge and manual traction of the spine.

Specialized Massage Therapy

This course introduces the student to specialized massage modalities such as chair massage, carpal tunnel relief, pregnancy massage, acupressure for tension headaches and massage for the elderly.

Working Environment, Job Outlook and Salary Expectations

• Resorts
• Chiropractic Offices
• Fitness Clubs
• Mobile Massage Services
• Medical Clinics
• Hospitals
• Cruise Ships
• Rehab Clinics
• Spas
• Hotels

Job Growth & Wages

• PROJECTED JOB GROWTH IS FASTER THAN AVERAGE THROUGH 2022 (22% OR HIGHER)*
• MEDIAN PAY FOR MASSAGE THERAPIST IN CALIFORNIA $38,930

*as specified by onetonline.org