Personal Fitness Trainer Program
Training to Become Personal Fitness Trainer!
Helping people reach their goals in life is rewarding on so many levels. Enrolling as Personal Fitness Trainer/Health & Wellness Professional Program at Southern California Health Institute (SOCHi) prepares the student for an entry level career as a personal fitness trainer and puts them on the path to helping themselves while they help others.
The comprehensive curriculum is based on scientific research, fitness expert experience and is aligned with key critical occupational skills and abilities. A combination of scientific content areas, laboratory performance domains, and work related activities allow for students to experience a blend of didactic and hands on learning.
request information
Is Healthcare Career Training Right for You?
The fun, online quiz takes 3 minutes to complete and you'll get a personalized report. Identify your strengths and social style plus the training and positions you're best suited for.
Healthcare Career Training Readiness Quiz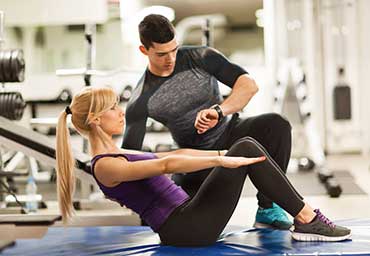 Looking To Become A Certified Personal Trainer?
Courses include anatomy and physiology, kinesiology of human movement, principles of weight management, exercise physiology, exercise psychology, sports-specific training, corrective exercise, client assessment and fitness program design, professional development, leadership skills, and first aid and CPR. Students will benefit from the activities that have occupationally relevant themes, created by fitness experts active in the field.
Dr. Michael A. Clark, DPT, MS, CES, PES, is the founder of national academy of sports medicine (NASM), and the creator of NASM's exclusive Optimum Performance Training™ (OPT) model used by thousands of health and fitness professionals worldwide. The Personal Fitness Trainer/Health and Wellness Professional program was designed by NASM to prepare the student for an entry level position as a fitness trainer.
Southern California Health Institute prepares the student to sit for voluntary certification exams as a Personal Fitness Trainer, Fitness Nutrition Specialist and Corrective Exercise Specialist.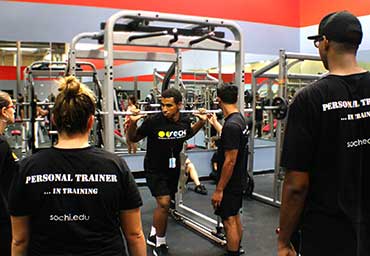 WHY CHOOSE SOCHi?
Unlike other educational opportunities for personal trainers which are mostly theory based, SOCHi lets you get hands on from day one and have full access to the tools of the trade. Our facility boasts a large well-equipped fitness center for lab use during your classes and use by the public during off-hours to help our trainers get even more real world experience in working with clients.
Many of our students have developed ongoing relationships with their training clients that extend beyond graduation and become the building blocks of their growing clientele as fitness professionals.
Why NASM Certification?

SOCHi partners with NASM because the NASM-CPT program is a proven, evidence-based training model that prepares you for real-world situations. Practical and application-focused content is presented in an easy-to-understand format. NASM's tools plus your instructor's experience and expertise means you will master complex scientific principles and be prepared to challenge the certification exam in order to enter the industry with the knowledge, skills, and abilities to change lives—including your own!

*For three decades, NASM has been renowned for the quality of its trainers and the scientific rigor of its program. In fact, all of NASM's programs are developed from comprehensive scientific research that's supported by the NASM Research Institute at the University of North Carolina, Chapel Hill. The industry's most accomplished experts oversee its programs and partnerships.

NASM's exclusive Optimum Performance Training™ (OPT™) model is the industry's first comprehensive training system based on scientific, evidence-based research. It takes the guesswork out of program design and helps you produce consistent and remarkable results for your clients.

Working Environment, Job Outlook and Salary Expectations

The employment opportunities for personal fitness trainers are very diverse. Here are some examples of places that may employ personal trainers:

• Day Spas
• Corporate Wellness Programs
• Fitness Clubs
• Fitness Centers
• Athletic Teams
• Resort and Hotels
• Cruise Ships
• Sports Medicine Facilities
• Weight Loss Centers
• Physical Therapy Offices

Job Growth & Wages

• Projected job growth is faster than average through 2022 (20% to 28%)*
• Median salary in California is $44,600.00*

*as specified by onetonline.org