Physical Therapy Aide Program
Find your Career as a Physical Therapist Aide!
The Physical Therapy Aide/Sports Rehab program at SOCHi provides the student with career training for employment as a Physical Therapy Aide and a Massage Therapist. This program provides students with the opportunity to learn valuable skills the applies an integrated approach to health and wellness by incorporating medical massage and physical therapy modalities. Training is provided in the utilization of physical therapy equipment and the treatment of back and limb disorders through medical massage. The program also offers training in physical agents in rehabilitation, anatomy, physiology, pathology, kinesiology, event rehabilitative sports massage, CPR and first aid certification, professional ethics & hygiene, and business principles. Upon completion of this program, the student may qualify for an entrylevel clinical position as a physical therapy & sports rehab aide. Graduates of this program are eligible to sit for the MBLEX Exam and apply for voluntary certification from the California Massage Therapy Council (CAMTC) to practice massage therapy.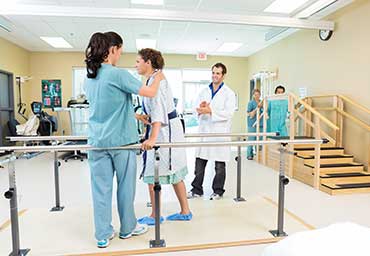 Why choose the Physical Therapy Aide/Sports Rehabilitation Program?
SOCHi developed this program with input from the owners of many local highly successful physical therapy clinics. By combining the skills necessary to work in the rehab clinic with a massage certificate, the graduate is able to get experience working in the Physical Therapy field while working additionally as a massage therapist on his or her own clientele if they choose. Mixing the rehab profession with our Manual Therapy protocols is a natural fit and many of our Physical Therapy Aide graduates have been able to use the combination to their advantage.
Our graduates are sought after by many employers and many have used their experience after working in the Physical Therapy field to continue their studies and become PT Assistants or Doctors of Physical Therapy while using their medical massage skills to help support them during their schooling.
Why SOCHi?

Our Physical Therapy Aide/Sports Rehabilitation program is quite unique and taught by professionals who are well versed in the rehabilitation and massage industries. Most of the classes are based on our foundations as a medical massage school with an emphasis on therapeutic practices used in the rehabilitation setting. The lab is equipped with the standard physical therapy equipment and modalities to allow the students to practice in a mock clinical setting. Students also use the gym and dedicated exercise rehabilitation equipment for conducting therapeutic exercise activities which are such an important part of the rehabilitation treatment plan. Finally, we have strong relationships with extern sites allows the student in the PT Aide program opportunities to observe a working clinical environment up close and hands on. Those strong rehabilitation community ties we established for program development and extern site cultivation have lead to many potential employers who routinely hire our graduates.

Working Environment, Job Outlook and Salary Expectations

• Physical Therapy Offices
• Chiropractic Offices
• Outpatient Rehabilitation Centers
• Sports Medicine Facilities
• Medical Clinics
• Hospitals

Job Growth & Wages

• PROJECTED JOB GROWTH IS FASTER THAN AVERAGE THROUGH 2022 (22% OR HIGHER)*
• MEDIAN PAY FOR MASSAGE THERAPIST IN CALIFORNIA $38,930
• MEDIAN PAY FOR PHYSICAL THERAPY AIDE IN CALIFORNIA $27, 490

*as specified by onetonline.org